(c) Mary TV 2014
(Go to Confession!!)
August 4, 2015
Dear Family of Mary!
"Dear children! With joy I am with you also today and I call all of you, little children, pray, pray, pray so as to comprehend the love which I have for you. My love is stronger than evil, little children, therefore draw closer to God so as to feel my joy in God. Without God, little children, you do not have a future, you do not have hope or salvation; therefore leave evil and choose good. I am with you and, with you, I intercede before God for all of your needs. Thank you for having responded to my call."
On August 2, 2015, Marija Pavlovic Lunetti gave her witness to the Youth Festival! It was full of memories from the early days of the apparitions. Here it is in full:
It is a joy for me to be here with you. In a special way I am very pleased to be able to pray with you, in the way that we prayed together in the beginning with Our Lady. When she revealed to us Our Lady of the Angels. Nine days before the feast of Our Lady of the Angels, Our Lady asked of us prayer and fasting, and a special prayer on the Hill of Apparitions for Our Lady's intention.
We prayed and fasted for nine days. And every evening we were on the Hill of Apparitions expecting Our Lady. On the last day, on the vigil of Our Lady of the Angels, Our Lady came at exactly

11:00 pm

.
As always, the great light flashed three times and then Our Lady came. With Our Lady, many angels came. We were shocked and overjoyed because Our Lady was not alone. Often Our Lady comes with angels. But that day there were millions of angels. Many people were with us, mothers, fathers, brothers, sisters, neighbors. Everyone saw, at the moment when Our Lady descended on earth, the stars falling towards the earth. That night, the sky was full of stars. But at the time of apparition, we saw that Our Lady was descending with the angels. Every star that touched the ground turned from one star to ten stars as it touched the ground. We all started to cry, "Repent, O my God, I am a sinner! Convert me!! Save me!" Everyone thought it was the end of the world. Everyone truly repented.
So we prayed the entire night. Our Lady stayed for a while, but afterwards we were all shocked. The day after we came to the parish office, and we told them what happened. "Our Lady came with a million angels. The sky was filled with angels. We didn't even know the number of the angels. We didn't know why, but she asked for nine days of prayer for her intentions. And this is what we did. And then we came to know that it was Our Lady of the Angels. Our hearts were full of joy! And from then on, like St. Francis we all started to pray the novena to Our Lady of the Angels and ask forgiveness from God.
It is very beautiful that now this meeting begins with prayer, of the Creed, Our Father and Hail Mary and Glory Be and for those who have not yet gone, to go to confession. And in a special way at this Franciscan Church to go to church, to confess, and ask for the plenary indulgence. Francis asked a plenary indulgence from the Pope for those who visit a Franciscan parish on this day. So this is how we begin our meeting! (They pray!)
Now I will tell you about when we all began to go to confession. During an apparition, Our Lady came to us and said that at

10:30

she would again appear. We were shocked that on one day Our Lady would appear twice, and we asked, "Where?" At that time it was the time of communism. They forbade us to go to the Hill of Apparitions. Then we had the apparitions in our homes. We asked Our Lady, "where?" She said to us "Find a place and pray. Where you will pray, I will come." And so it was.
We prepared ourselves by praying the complete Rosary. We prayed the Joyful, Sorrowful, and Glorious Mysteries. We waited for Our Lady and she came. She came joyful. We were even more joyful because she was with us. I remember that time. Every day was a gift. We thought from one moment to the next we would end up in jail or we could die. So every day to us was precious. Communism was strong and they threatened us in every way. To stop Our Lady they would put us in prison, in an insane asylum, etc. But Our Lady came to us every day. We would say to Our Lady that we were afraid of the police, we were afraid of prison, and all the other things, and she would be joyful as if she wasn't concerned. It was as if she didn't pay any attention to what we were saying. She prayed. She rejoiced to be with us. So it was that night. She came joyful, joyful!! Beautiful! Radiant! Bright! Like a beautiful flower. More than a flower, Our Lady came. But her beauty even today, I don't know how to describe. When we see a picture we say, Oh my how ugly this picture is. How beautiful Our Lady really is. Every time before an apparition, I pray before a statue. I close my eyes so I don't see that statue or image, and I think in that moment of heaven, ever present, because her presence is heaven on earth.
On one occasion we asked, "Blessed Mother why are you so beautiful? We can't describe your beauty. There are no words that can describe your beauty." Our Lady said, "I am beautiful because I love." So also that night, Our Lady appeared, and with her great joy. Our hearts opened, heaven opened with her presence. And with her the angels came. When Our Lady is joyful, the angels are even more joyful. If Our Lady is sad, the angels are sad. They don't even flutter their wings so much if they are sad. But if they are joyful, their wings flutter so quickly. So joyfully, fluttering about.
In a moment, Our Lady said, "All of you come closer to me. You can touch me." We said, "Dear Mother, how is that possible? Only the six of us can see you. They cannot see." Our Lady smiled and said, "Take their hands and bring them to me." Out loud we said to Our Lady, "How can we draw them closer?" Everyone was kneeling. She said, "Take them, have them get up and bring them closer to me." With all our strength we said, "Our Lady called all of you present here, to come closer to her and to touch her."
One by one, they came close to Our Lady, they touched her garment, her hands. At that moment, when the people we knew well, brothers and sisters, etc. touched Our Lady, there were stains on her garment, bigger or smaller. Her dress was dirty. We started to cry and we said, "Dear mother, why are your garments dirty?" She said to us, "These are your sins." She who is Immaculate, saw our sins on her garment. Our sins remained, and we cried. And we said, "What are we to do?" She told us to go to confession. Masses of people were coming to Medjugorje, and they came to the Hill of Apparitions, to the Church where the Blessed Sacrament is, but they didn't think to go to confess until Our Lady called us to do so.
She said to us, "Go and ask the priest to confess you. Reconcile with God. Ask of God for forgiveness. Decide for Holiness. Leave behind sin. Live God's commandments. Go to Confession. Choose a priest that the may be your spiritual director, your confessor." So all of us decided the day after to go to Fr. Jozo, to go to confession. We told him that yesterday Our Lady let all of us touch her, not just the visionaries, but all of us who were present. And we saw our mother, brother, sister, neighbors, who touched her, leaving behind a stain. But at the moment when the apparition ended, God worked a miracle. We didn't know who left which stain, in fact Our Lady didn't permit us to remember the sins of our brothers and sisters. In fact we could forget, and we could love.
She asked us to start a new way, a way of conversion. That we start a way of holiness, a school of prayer, from that moment. As you see very often, the first pictures of the apparitions which are black and white, that seem to be made centuries ago. But these are our memories that touched us to the heart. From that moment we all left our homes, entire families came and said we no longer wanted to permit Our Lady's garments to be stained by our sins. If Our Lady permits us to touch her, we want her garments to be white and not black, not stained. And for days we confessed our sins. From the priests we asked forgiveness from God, and we all repented. We all chose a priest, a spiritual director. I remember when I chose Fr. Slavko and my new life with God began through the Sacrament of Reconciliation.
I asked Fr. Slavko, Do you desire to be my spiritual director, because Our Lady wants us to choose? He said "Yes, very gladly!" I asked, "What time?" Because Fr. Slavko knew I love to sleep in the morning, and I like to stay up late at night, to chat like all the young do, he said, "Is it alright, Marija, if I ask you to go to the Hill of Apparitions at

5:00

in the morning to pray and prepare ourselves for Holy confession?" And so it was.
I often felt it was a beautiful and great experience, one of the most beautiful experiences in my spiritual life. Fr. Slavko also wrote in a book how to confess with the heart. On one occasion I felt in my heart, and I saw my soul like a flower, a flower that is wilting. At the moment of confession I felt that that flower had dew falling upon it and came back to life. That is also like my life, that without God I am withering, even though I am young. I was only 16 or 17 years old then, but when I am with God, I am joyful. I am beautiful. And created in the image of God. I am unique. I am God's joy! And in all of that, I felt great joy. That joy I always gladly witnessed to all those who came who were great sinners. I would say, "Go and underneath the mantle of Our Lady do not be afraid, go and confess!! Begin a new life!"
On one occasion, Fr. Slavko said to me, "If you start a new life, a life with God, there is no disorder because the reflection of your soul will also be on the outside. So also with your environment. So with your room. It will be a reflection of your soul."
I remember that often times I didn't have time, or I didn't care, like all young people. Take your shoe and throw it on one side of the room, the other underneath the bed, and then later you spend half an hour looking for the shoe! Where is it! But I was the one who threw it to the left or to the right, who knows where. Fr. Slavko always said "The reflection of the soul is also outside." Then I started to prepare it. My shoes were neatly under the bed, one beside the other. And I decided that my closet was not thrown together, but neat. Everything is precious.
And on one occasion I remember, when a young man came from America to Belgrade. He thought Medjugorje is close to Belgrade. He knew that the capital of Yugoslavia was Belgrade, and he didn't know anything else. There at

3:00 am

he found a woman who worked in prostitution, and he asked her in English, "Medjugorje?" And she said, "I will take you." She took a taxi with him and she brought him to my house. She was nearly naked and my mother said to me, "Marija you go to your room and choose a dress to clothe her, this is a shame that she is walking around Medjugorje. This is holy ground. This is Holy Land. God and Our Lady chose this ground." I went to my room, and I remember when I went to my closet, I was very proud that it was in order, and I thought about what I would give her. And I thought at that moment that I must choose one of the most beautiful things that I have to clothe her, because she is Magdalene who has come to God. And that person converted, seeing us, praying with us. And today she is the mother of a family. She left sin and started a new life. With pride she says, "I was in prostitution. I was in sin. And today I am living in holiness. In my heart, in my family, in my parish.
Our Lady is not looking at us as who we are, or where we are from. We are all called to holiness. And of us she asks one thing, to say with our lives, "yes" to God. That we live His commandments. That we pray.
On one occasion I was asked, "What must we pray, what prayer does Our Lady ask for? What is the dearest prayer to Our Lady? " We answered that every prayer, as Our Lady says, is good and pleasing to God. It is important that we pray it. Our Lady has said, "Pray, pray, pray. Pray until prayer becomes a joy for you."
Today we do many things, I don't even know myself. Youth have thousands of ideas. But I know how I started, how we responded to Our Lady's call. In a special way in the first days, when the apparitions were not known, because there were still bushes and the path was not as broad as it is now, and we went to the Hill of Apparitions and we prayed, what did we pray? What we knew! Our Father, Hail Mary, Glory Be. Creed. We prayed and we sang "Christ in your name, we are all here." Our Lady sang it with us.
We are all now here. As in the Sacred Scripture yesterday we heard, five loaves and fishes. Today we are the five loaves and fishes, and those loaves and fishes fed the multitude. I invite you dear youth, be the bread that is broken for others, especially those who are far away from God. There are so many youth far away from God. There are so many youth who are in sin. Let us be the food. Let us be love, let us be joy. Not about Jesus how died and is in the tomb, but let us be the joy of Jesus who is risen. Let us be especially those who experience Our Lady and through her experience God, because our way is that way, with Mary to Jesus! With Mary towards Adoration. With Mary beneath the Cross. In the good and in bad, may Mary be our refuge, our strength. May Mary, Queen of Peace, Our Lady of the Angels, Help of Christians, may she be our consolation, as she has been to us all these years. May she be our hope, may it be so! In a special way to you dear youth, all those who are here. BE the extended hands of Our Lady, be her joy. To all those whom you meet, in a special way be prayer, because he who prays does not do evil. The one who prays, loves. You are called to be the , to be peace to all those you meet. May it be so. Praised be Jesus and Mary!
(Marija Pavlovic Lunetti - August 2, 2015
Marija shares so beautifully of Confession and the graces we receive through that beautiful sacrament. Truly, Confession is the great grace of renewal that is flowing through Medjugorje to our broken Church, our broken world. May we all run to confession, run to the forgiveness Jesus offers us, without fear, under the mantle of Our Lady! We all nothing to lose and everything to gain!
In Jesus, Mary and Joseph!
(c)Mary TV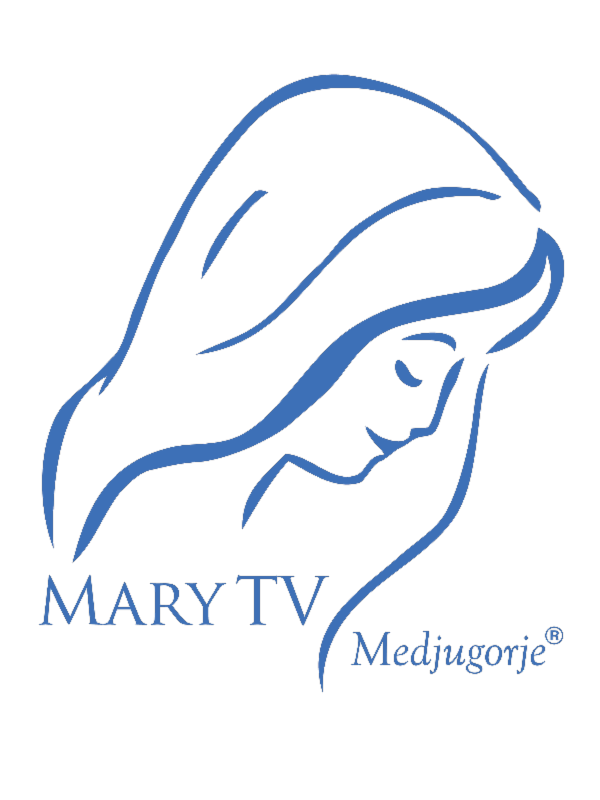 "Medjugorje is the spiritual center of the world."
Saint John Paul II
Be connected!
www.marytv.tv