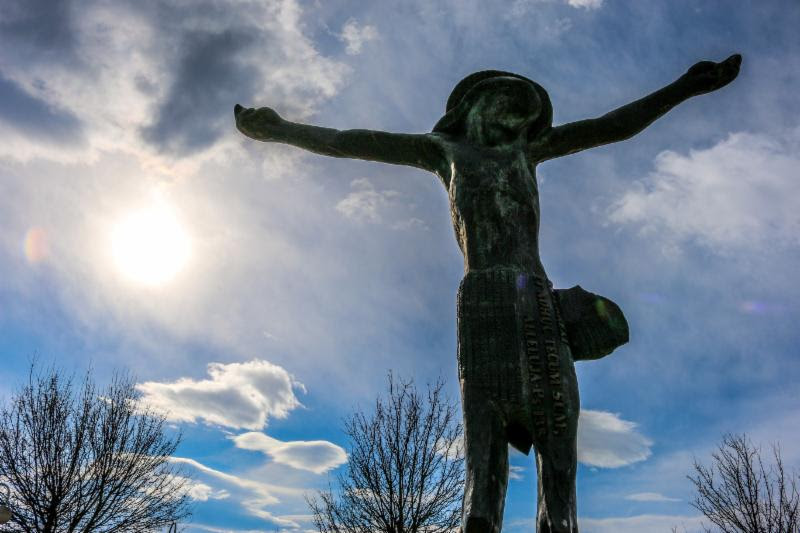 (
c)
Mary TV 2015
Sts. Pontion and Hippolytus
"... He is the light which illuminates your soul and gives you peace. He is the Church which you need to love and to always pray and fight for - but not only with words, instead with acts of love..." (August 2, 2015)
As I went down into our old, musty, dark basement last night to turn on the water for our outdoor hose, I learned again the value of light. I know the basement like the back of my hand, and since in my haste I had neglected to turn on the light by the stairway, I thought I would be able to find my way to the water valve without being able to see. Sure enough, I stumbled about, running into things I didn't expect to be in the way, and when I reached up to find the valve, there were many pipes and knobs and valves to choose from. I also felt cob webs and creepy things. So, I admitted defeat, and went back to turn on the light! Voila, there was the valve!
I remember at that moment saying to myself, "Jesus this is what you mean when you say you are the light of the world."
Again Jesus spoke to them, saying, "I am the light of the world; he who follows me will not walk in darkness, but will have the light of life." (John

8:12

)
We humans live in a dark place. Human society without Christ is a dark environment, fraught with dangers. We may think we know how to act and what is right and just, but we are stumbling in the dark, bumping into things we don't know are there, and reaching into musty, cobwebby spots full of creepy crawlies. We can't see because all is dark!
"Now this I affirm and testify in the Lord, that you must no longer live as the Gentiles do, in the futility of their minds; they are darkened in their understanding, alienated from the life of God because of the ignorance that is in them, due to their hardness of heart..."(Eph 4: 17-18)
Our understanding, without Christ, is darkened. We cannot think our way out of a paper bag without the Light of Christ! How many terrible mistakes we make in that darkness! But how much peace we have when we are illuminated by Jesus in our souls. It is then that we know who we are, why we were created, and to what a great future we are headed. We can see it all in the Light of Christ. He has shown us the way!
And the Church is given to us to keep that light burning, through the Sacraments and the Teachings. No wonder we need to fight for her. The Church carries that Light of Christ as a beacon for the whole world. The Truth, Christ, is our Light!
So let's never neglect to receive the Light. In my haste I thought I could do without the light in my basement. In our haste we may think we can do without Confession, or Communion, prayer or Holy Mass. But we will regret such a hasty decision. We may find ourselves stumbling in the dark.
Come, Lord Jesus, be my Light!
In Jesus, Mary and Joseph!
"Medjugorje is the spiritual center of the world."
Saint John Paul II
Be connected!
www.marytv.tv